When you are in a profession long enough you begin to notice patterns that beg a question. The case I am putting forth today it has to do with the new wave of adoption of 1-1 devices in schools and the subsequent re-examination of computer acceptable use policies by these schools. This re-examination has caused me to review a number of acceptable use policies and among those I have read there seems to be a correlation between years of technology experience and the approach to dealing with student acceptable use.
My hypothesis is that schools with a longer history of widespread student computer use make decisions about AUPs that represent higher levels in both Abraham Maslow's (1908-1970) hierarchy of needs and Lawrence Kohlberg's (1927-1987) theory of stages of moral development.
Maslow
Maslow's hierarchy of needs is so well-known that it needs little explanation. For those wanting a quick review, the Wikipedia entry is quite good.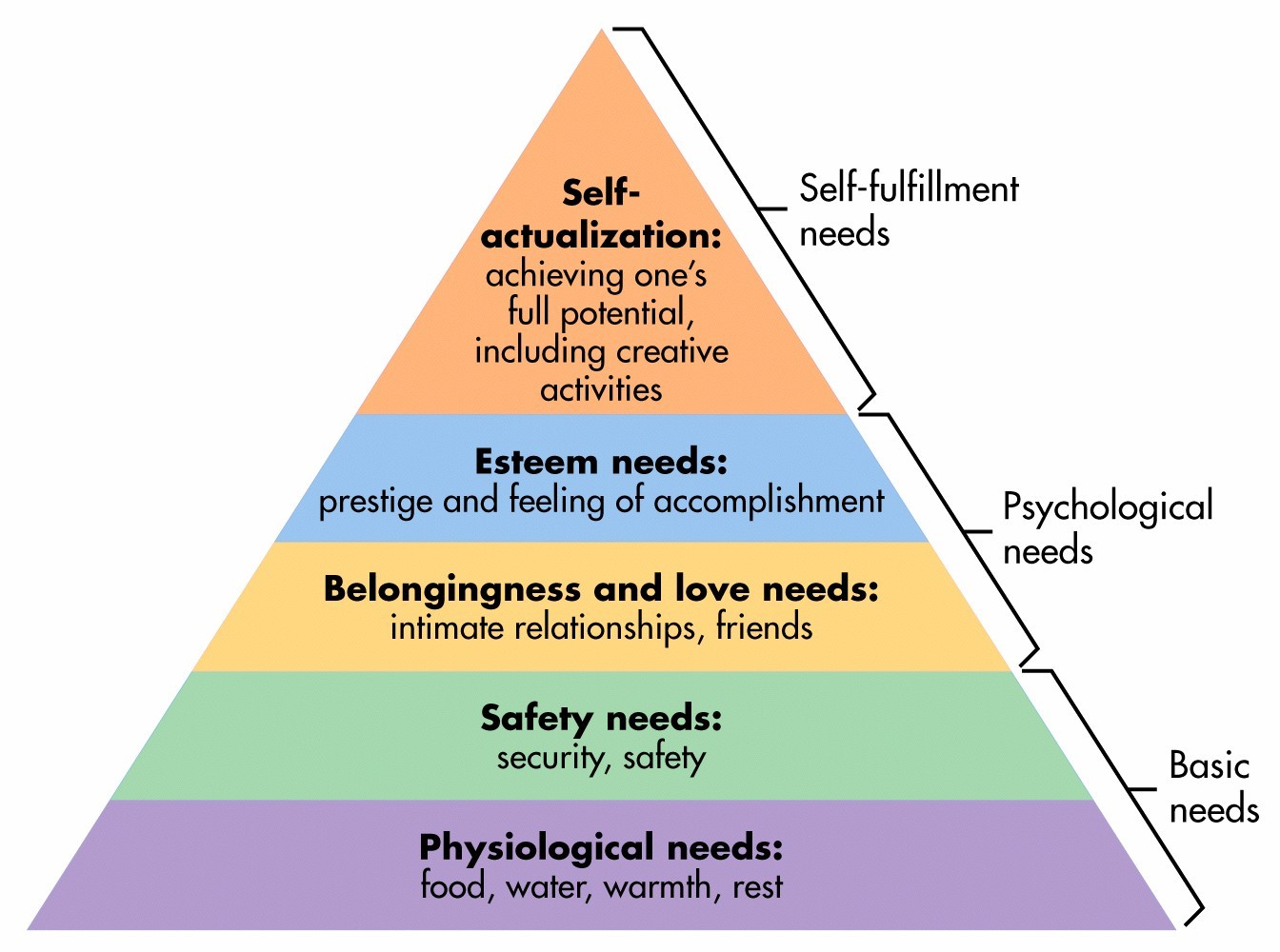 If we accept that Maslow is correct in his thinking, and there's ample evidence that he is, it follows that teachers and school administrators must satisfy lower level needs before they can proceed to higher levels of needs. For purposes of this discussion, we can dismiss basic physiological needs as largely irrelevant to a discussion of 1-1 computing programs. These needs are present among some of the students we serve, but are several layers removed from technology.
This brings us to safety and security, a level in which there is a considerable amount of angst, especially in schools that are adopting 1-1 computing programs in which students will spend large blocks of time at school or home using computers. Educators and parents are often very concerned the risks associated cyberbullying, online predators, the misappropriation of private information, computer malware, and related threats to the psychological and even physical well-being of children. It has been my observation, however, that as schools become more experienced in the use of computers by students they come to realize that such fears are often overblown and that the school's digital citizenship programs are often more effective in curtailing unsavory behavior and promoting safe practices than they imagined.
As a result, acceptable use policies may begin their life as prohibitory in nature (long lists of what students can't do) evolve to become less specific and more positive in orientation. (See my previous post, The AUP of the Future.)
To take this a step further, consider Maslow's description of the self-actualized person and goals for 21st century teaching and learning from the Partnership for 21st Century Skills.
Maslow's Self-Actualized Person

Partnership for 21st Century Skills

Are realistically oriented

Reason effectively

Accept other people for what they are

Learning from and working collaboratively with
individuals representing diverse cultures, religions and lifestyles in
a spirit of mutual respect and open dialogue in personal, work and
community contexts

Are spontaneous in thinking, emotions, and behavior

Creativity and innovation

Are problem-centered rather than self-centered

Critical Thinking and Problem Solving

Need privacy

no corollary

Are autonomous, independent, and able to remain
true to themselves in the face of rejection or unpopularity

Persistence in learning

Have a continuous freshness of appreciation

The Wonder-Experiment-Learn cycle

Have mystic or oceanic experiences although not
necessarily religious

no corollary

Identify with mankind

Global Awareness

Have deep meaningful relationships with a few people

Communication and collaboration

Have a democratic structure and judge people as
individuals

Exercising the rights and obligations of
citizenship at local, state, national and global levels

Have highly developed ethics

Life Skills, including ethics

Resist total conformity to culture

Life Skills, including personal responsibility and
leadership
What we see here, I think, is a real-world application of Maslow's hierarchy of needs reflected in how schools move from a fear-based approach to student computer access to one that empowers students to use the "filter between their ears" in dealing with inappropriate contents and making mindful choices regarding social media and online safety.
Kohlberg
Arguably less studies than Maslow, but nonetheless a major thinker in his field is psychologist Lawrence Kohlberg, whose work on the stages of moral development built on the work of Jean Piaget. Kohlberg posited that there were 6 stages of development in moral reasoning.
Stage 1
Obedience and punishment
orientation
Stage 2
Self-interest orientation
Stage 3
Interpersonal accord and
conformity orientation
Stage 4
Authority and social
order-maintaining orientation
Stage 5
Social contract orientation
Stage 6
Universal ethical principles
orientation
These stages of moral reasoning could be uncovered by asking people to describe their responses to various moral dilemmas that were presented to them, the best known of which is the Heinz Dilemma.
Taking a page from the Heinz dilemma, one could put it in terms of a school's acceptable use policy, perhaps along these lines:
Heidi's dilemma:
A student is about to be expelled from high school due to accusations, which you know to be false, regarding the theft of final exams from the school's servers. You know this to be false because your brother admitted to you that he had done it, but swore you to secrecy. He argues that if the principal finds out it he will be the one expelled, something that will devastate your parents and ruin his chances to for college. On the evening before the expulsion, you call the school principal at home and tell her what you know. 
Should Heidi have told the principal?
Kohlberg would argue that what Heidi decides to do is less important than the reasons people give for how they reach their conclusion. Indeed, different answers can be created that fit each of the six stages of moral reasoning.
Stage one (obedience): Heidi should not not tell the principal because her brother will be severely punished, and perhaps she will be as well for not coming forward earlier.
Or: Heidi should tell the principal because if the truth was to come out later it would be worse for both her and her brother.
Stage two (self-interest): Heidi should not tell the principal because if she betrays her brother she will not be able to live with herself.  He is, after all , her brother and will be for the rest of her life.
Or: Heidi should tell the principal because this is too terrible of a secret to keep and she will regret it for the rest of her life. Besides, her brother will receive an important life lesson which will make her feel better in the long run.
Stage three (conformity): Heidi should not tell the principal because their family believes deeply in family first; loyalty is what defines a good sister.
Or: Heidi should tell the principal because she is a solid student who enjoys the trust of the principal and other school administrators. What her brother did is contrary to what good students do.
Stage four (law-and-order): Heidi should not tell the principal but  must also be willing to take the consequences that might arise should the truth be revealed in some other way.
Or: Heidi should tell the principal the first student is innocent, that she was wrong for withholding the information, and help her brother accept the consequences for his action.
Stage five (human rights): Heidi should not tell the principal because it is more important that her brother do the right thing himself. It is her brother's responsibility to understand the wrong that he is doing to the falsely accused student and take action.
Or: Heidi should tell the principal because the falsely accused student has a right to be treated fairly  and justly, a right that transcends family loyalty.
Stage six (universal human ethics): Heidi should not tell the principal because more harm will come to her brother, someone who up to this point has been an exemplary student who has never done anything wrong, than it would to the falsely accused student who had gotten away with such thefts in the past, and in fact had been the one who urged her brother to do it this time.
Or: Heidi should tell the principal because not doing so would be hurtful to what she, and even her brother, consider to be a higher moral standing of ethical reasoning and behavior. 
Using P21 again as an exemplar of so-called 21st century learning, it is clear to me that restrictive  AUPs align more readily with the reasoning described in stages 1-4 while making choices about appropriate, responsible, and mindful use of technology lean towards reasoning at stages five and six. Constructivist thinking (formulated by Piaget and countless others) permeates 21st century teaching and learning, and all aspects of K-12 policy and practice should support those ends. Enlightened AUPs are but a small part of the picture.
Conclusion
I have been wrong before, and may indeed be wrong-headed in my suggestions of connections between how we govern student use of technology in schools with both Maslow and Kohlberg. It was one of those thoughts that I needed to put down in writing and ask others if it hangs together or not.
Comments are, as always, sought and appreciated.