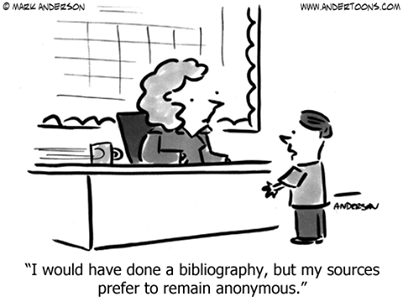 Which is the academic best citation system?
A.

MLA (Modern Language Association)

F. AMA (American Medical Association)

K. AIP (American Institute of Physics)

B.

APA (American Psychological Association)

G. ASA (American Sociological Association)

L. IEEE (Institute of Electrical and Electronics Engineers)

C.

CMS (Chicago Manual of Style)

H. MHRA (Modern Humanities Research Association)

M. AMS (American Mathematical Society)

D. Turabian

I.Bluebook

N. Vancouver System

E. Oxford

J. ACS (American Chemical Society)

O. None of the above; All of the above; Who cares?
The answer most of us is of course "O." Yet there are those who will argue the point; people who will eschew powerful technologies unless it supports their citation system of choice.
This fact was brought home to me by a message in a listserv I frequent (ISED-L) in which the writer reported that teachers in her school did not like Google Docs due to the fact that their MLA citation tool was not on par with that of that  MS Word. OMG, the horror of it all.
I recall my days as a Ph.D. student and later as a thesis advisor,  in which the details of the APA handbook often got the best of me. But some minutious fossils who sat in judgment of student work would refuse to budge until every comma, colon, and period was properly placed. At times this seemed to be their only critique of a student's hard work; the content and methodology of the research was secondary.
Modern scholars avail themselves of the tools of the modern writer and researcher, such as spelling and grammar checkers, online search utilities, and academic citation generators. A misplaced comma or period in a citation should be of little concern to them as long as interested readers can find the source material. Let computer programmers and experts fix citation software to make it more compliant with arcane rules. Better yet, let the learned societies of the world work together to invent with a 21st century citation system.
In a previous post (In Praise of Good Enough) I wrote that "being part of an elite college preparatory institution brings with it expectations of perfection in everything we say and do, a place where the perfect is the constant nemesis of the good." Leave well enough alone, I say.